COVID-19: Ventec Life Systems responding with VOCSN
As the manufacturer of the first and only Multi-Function Ventilator, Ventec Life Systems is committed to do whatever we can to support our partners, and stands ready to assist in the domestic and international response to COVID-19 (coronavirus). For patients battling this virus and for the caregivers, respiratory therapists, and medical professionals working tirelessly to prepare and respond, our team is committed to supporting you.
Our engineering team, clinical team, and clinical board have decades of experience leading the development of the conceptual framework to provide respiratory support during outbreaks of serious infectious diseases - specifically, the use of ventilators for mass casualty respiratory failure. VOCSN is in a unique position to treat patients with COVID-19 and associated respiratory failure by providing life-saving therapy across the continuum of care, from high flow oxygen therapy to non-invasive ventilation to invasive ventilation, while also providing secretion clearance and medication delivery.
Patients battling this virus may need a ventilator and, in this time of need, access to ventilators is becoming a concern. Below is the latest update on Ventec's Operations and how Integrated Respiratory Therapy with the VOCSN Multi-Function Ventilator can support the COVID-19 response. This page will be updated regularly as the COVID-19 pandemic evolves.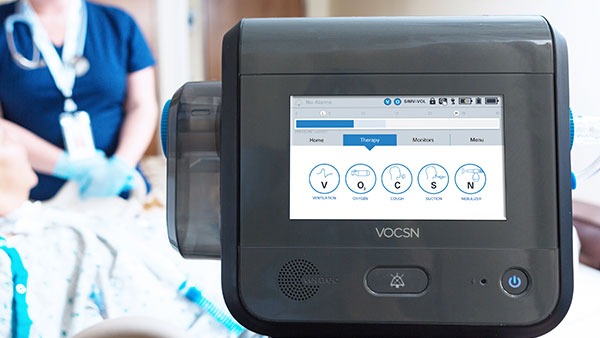 About VOCSN
VOCSN is a critical care ventilator that works from hospital-to-home for pediatric and adult patients and includes the following therapies:
Ventilation:

Critical care ventilator & high flow therapy

Oxygen:

6 L/min oxygen concentrator

Cough:

Touch button cough assist

Suction:

Hospital grade suction

Nebulizer:

High performance nebulizer
VOCSN has been FDA cleared since 2017 and patients are using VOCSN across the continuum of care in both the US and Japan.
Click here for additional information about VOCSN
Treating COVID-19 Patients with the VOCSN Multi-Function Ventilator
A recent JAMA article studied the clinical characteristics of 138 hospitalized patients with COVID-19 and found that 77% of patients required supplemental oxygen, 11% of patients in the ICU required high flow therapy, and 89% of patients in the ICU required ventilation. Many ICU patients also require secretion management.

The VOCSN Multi-Function Ventilator combines all of these critical therapies for medication delivery (oxygen and nebulizer) and secretion management (cough and suction) into a single, portable device with an easy-to-use touchscreen interface. The integration of multiple devices into a single device provides unique advantages to manage Mass Casualty Respiratory Failure (MCRF) events by providing better care for more patients and reducing the drain on critical space, staff, and supply resources.
Critical Care Ventilator

: VOCSN meets the rigorous ISO international standard for safety and accuracy to qualify as a "critical care ventilator." VOCSN provides best in class invasive, non-invasive, and mouthpiece ventilation across a comprehensive set of modes and settings for pediatric (5kg and above) and adult patients to serve a majority of patient populations and ventilation needs.

Reduced Footprint – Overflow ICU Space

: As hospitals triage space, the small footprint of VOCSN compared to five large devices enable medical care for more patients in a fixed area, allowing ventilatory support, oxygen, and airway clearance in any hospital space.

Internal Oxygen Concentrator

: Oxygen is usually the first resource to run low during a respiratory emergency. The VOCSN internal oxygen concentrator makes up to 6 L/min equivalent of oxygen (up to 40% FiO2) ensuring a consistent source of backup oxygen. Additionally, the Oxygen Direct™ delivery system can considerably extend the use of an external low-pressure or high-pressure oxygen source through efficient oxygen delivery. VOCSN supports care in any hospital room, even those without piped oxygen or medical vacuum, allowing hospitals to use non-traditional locations and expedite patient transitions to alternate care facilities or even home.

Training & Staffing:

Respiratory therapists trained to manage ventilator patients are already in high demand and will become scarcer as COVID-19 cases increase. VOCSN has an easy-to-use touchscreen and operating system that is consistent across all five therapies and a single patient circuit that streamlines patient care and reduces the typical staff requirement of three medical professionals per ventilator.

Reduced Circuit Disconnects

: VOCSN can be used for all modes of ventilation, across all five therapies, and during intra-hospital transport, which may reduce the spread of infection by limiting the number of devices that have to be shared between patients. Additionally, VOCSN is one device to clean and disinfect.

Reduce Secondary Transmissions:

All five therapies are bedside and available for the patient at all times, eliminating any device sharing and reducing caregiver device management. Therapies such as insufflation and exsufflation (cough assist) and nebulization can be performed without disconnecting the patient circuit, reducing risk of secondary transmission. A single integrated device and single integrated patient circuit decreases the need for multiple entries to the room and cleaning requirements.

Extended Battery & Reduced Energy Consumption

: Up to 9 hours of on-board battery (no large external batteries needed) provide continuous up time in energy-scarce environments. When connected to an external power source, VOCSN requires only a single outlet and significantly less energy than multiple traditional respiratory devices.

Data and Monitoring

: VOCSN Multi-View is the only comprehensive monitoring for ventilator patients that tracks and records the details of each therapy usage and provides trending reports across therapies on demand, reduces charting time, and enables clinicians to focus on patient management rather than device and therapy documentation.

Flexible and Transportable

: VOCSN makes it easy to move patients - no need for external oxygen tanks, additional equipment, and accessories for each device. Access to all five therapies during transport increases safety and improves the standard of care regardless of care environment.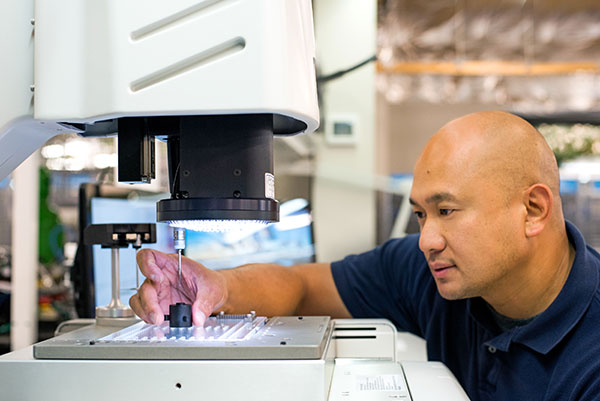 Media Resources
Information for members fo the media