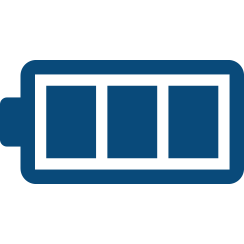 Up to 9 Hours of Power
Freedom all day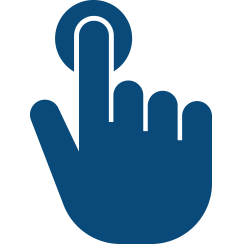 Touch Button Therapies
One circuit, no switching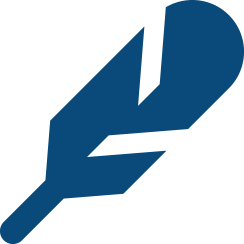 70% Lighter*
Less to carry, easier to travel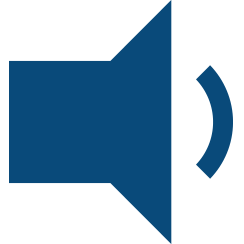 3x Quieter*
Discrete multi-therapy delivery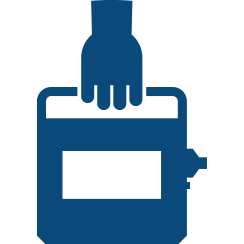 Everyday Mobility
Five therapies, one device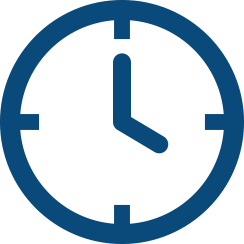 Faster Therapy
Care in seconds, not minutes
Homecare Reimbursement
Better payment for better care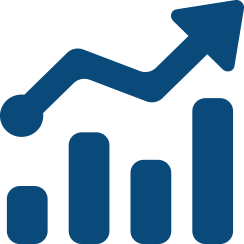 Comprehensive Reporting
Customized breathing comfort
*As compared to traditional ventilator, oxygen, cough, suction, and nebulizer devices.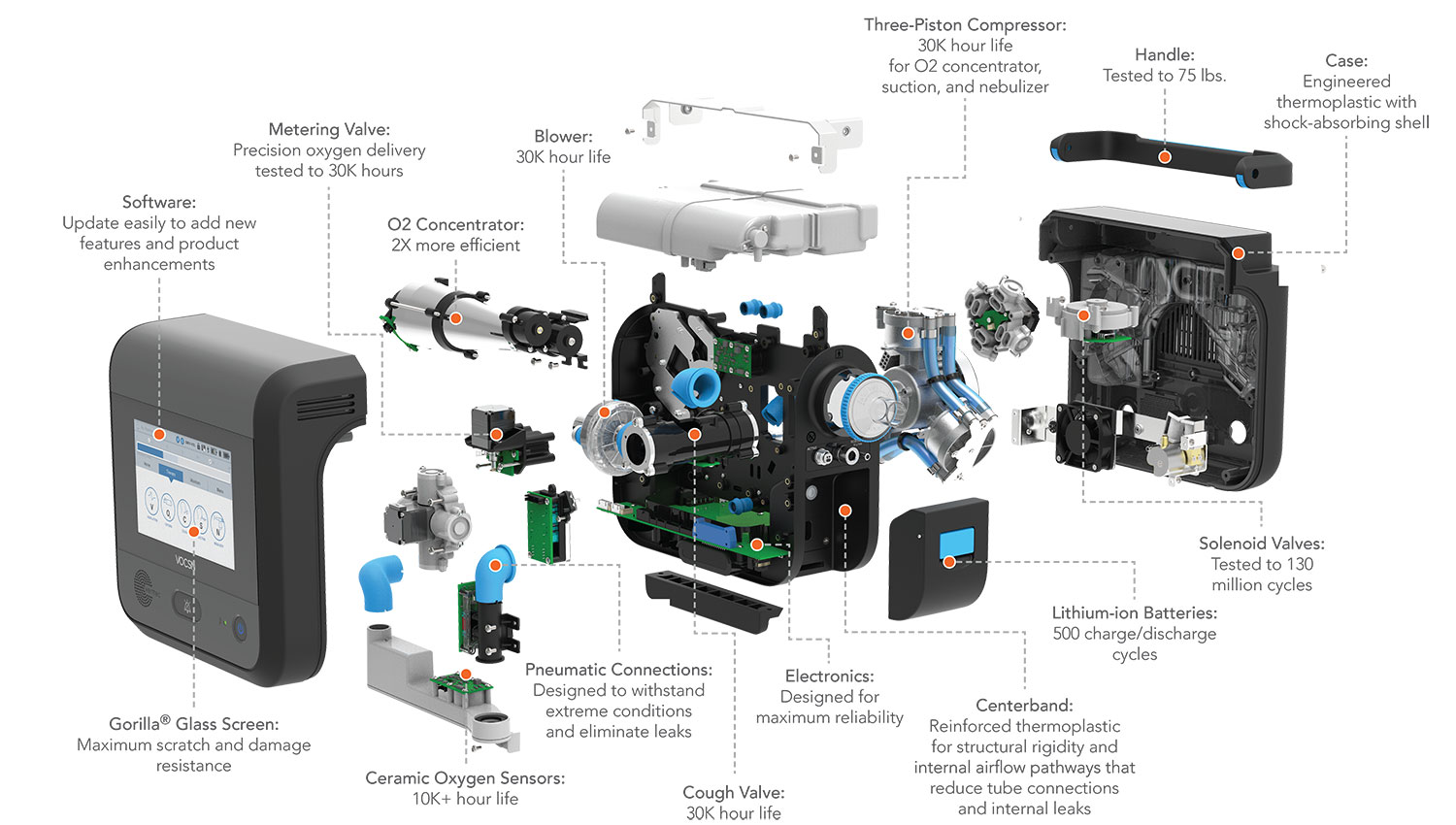 VOCSN: Five Devices in One
Engineered tough to provide lasting value
In addition to engineering endurance into every component, all VOCSN configurations include a 2-Year Standard Warranty, guaranteeing any initial repair and maintenance costs are covered by Ventec Life Systems. All five therapies are maintained on the same 10K-hour service schedule. With all major components are over-engineered and designed to 30K hours of use, you will never have to replace a nebulizer or suction pump again. Use the slider to reveal the durability of VOCSN.
CLICK TO VIEW VOCSN DURABILITY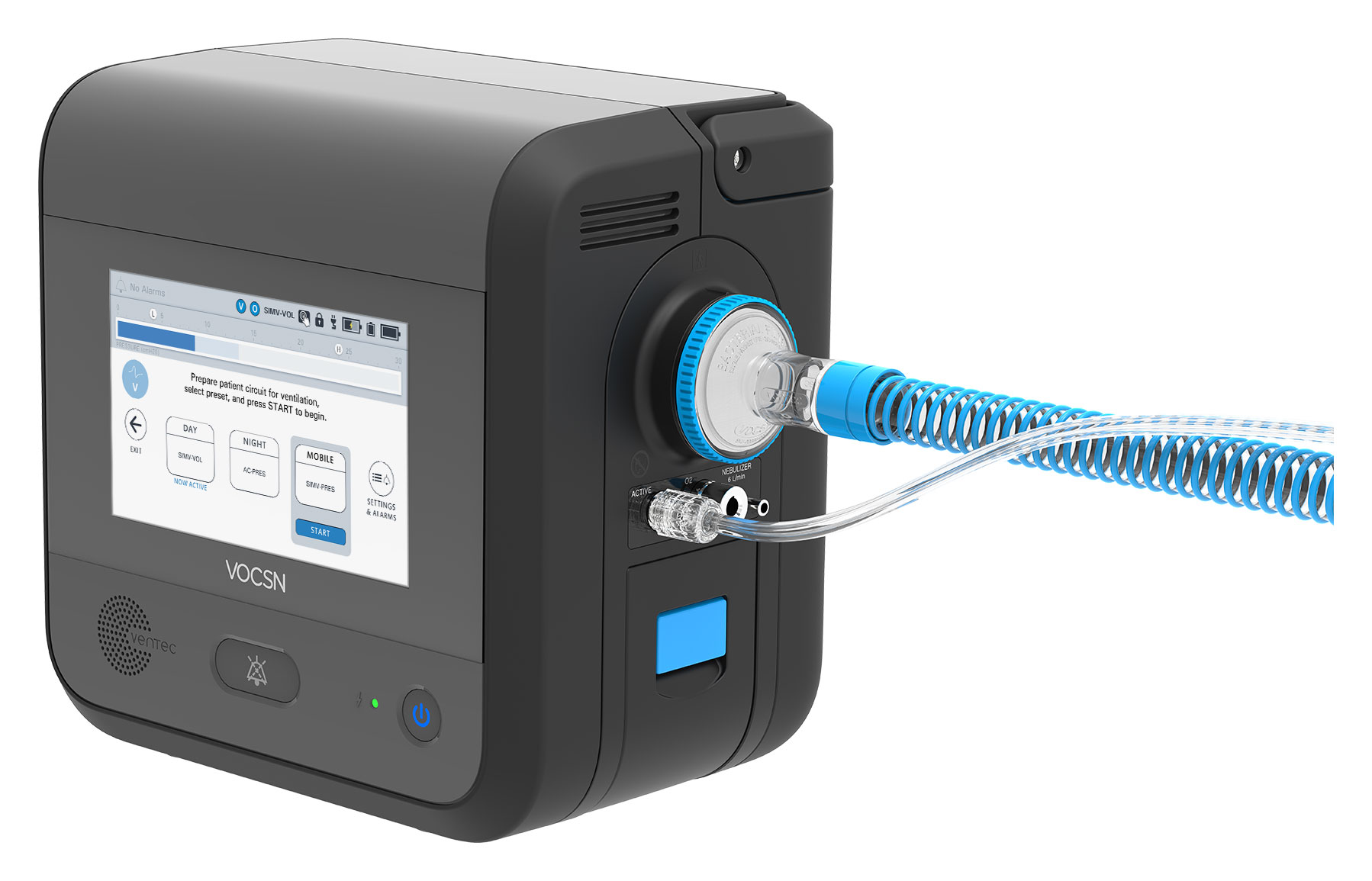 Ventilator
The VOCSN critical care ventilator provides invasive, noninvasive, and mouthpiece ventilation. Designed to work in hospital, institutional, transport, and home environments, VOCSN delivers a comprehensive set of ventilation modes and settings to meet patient needs. The advanced unified respiratory system combines responsive leak and circuit compensation as well as precision flow trigger controls to enable comfortable breathing and accurate therapy.
View Details and Specs
Plus / Minus
Highlighted Technology:
Ready for Hospital, Transport, and Home
Using a customized radial blower and advanced software, VOCSN meets the rigorous ISO 80601-2-12 international standard for critical-care ventilators.

Advanced Leak Compensation
With Leak+ technology, VOCSN automatically compensates for high flows and large leaks up to 175 L/min at 20 cmH2O. This reduces nuisance alarms and allows the use of more comfortable noninvasive masks.

Integrated Oxygen Blending and Monitoring
VOCSN includes an internal oxygen concentrator as well as inlets for low and high pressure oxygen sources. An onboard FiO2 monitor displays and tracks oxygen delivery and together with the onboard oxygen blender, allows you to set precise high pressure oxygen delivery. If external oxygen becomes disconnected, VOCSN activates an alarm and allows you to easily switch to the internal concentrator, providing an emergency backup source of oxygen.

Multi-View
VOCSN logs, graphs, and trends monitor values, frequency of therapy use, alarm activations, configuration changes, and more across all five therapies to facilitate actionable and informed treatment decisions and care plans, drive proactive interventions, control costs, and deliver seamless care across providers from hospital to home.

Circuit Compensation
Typically only found in critical care ventilators, circuit compensation helps overcome lost volume in the patient circuit. This technology improves airflow delivery accuracy during volume ventilation, which is especially important for pediatric patients.
Download Ventilation Tech Specs (PG 7)
Download VOCSN Comparable Ventilation Modes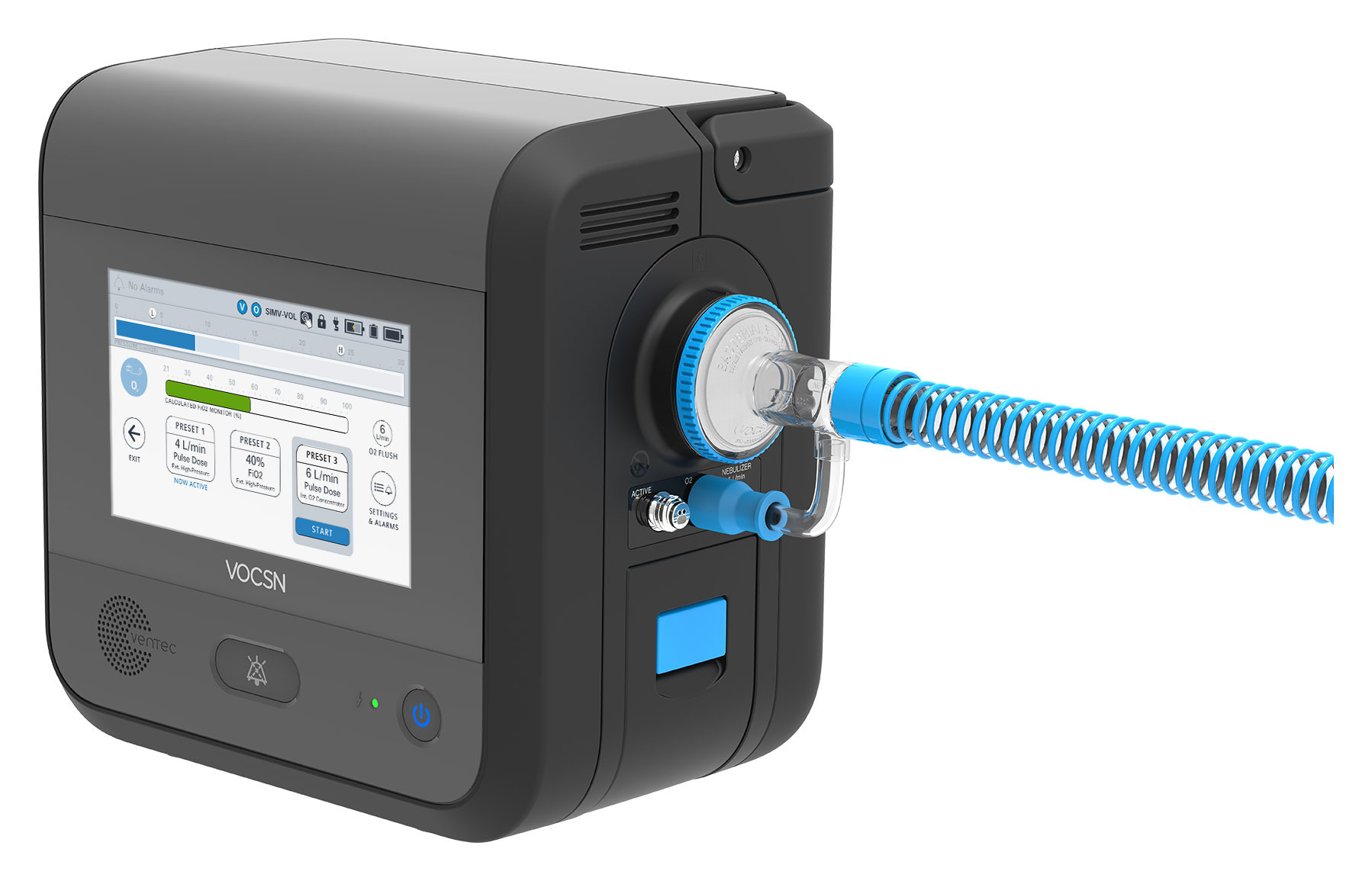 Oxygen
VOCSN can deliver the equivalent of 6 L/min of oxygen using the onboard internal oxygen concentrator.

The Oxygen Direct™ system uses an independent oxygen tube inside the circuit. This enables oxygen to be delivered directly to the patient in pulse-dose mode during the beginning part of the breath, precisely when the patient needs oxygen most.

The oxygen system is up to three times more efficient than stationary concentrators. This significantly decreases the size of the oxygen concentrator and maximizes battery life. Most importantly, it makes traveling and using oxygen easier.
View details and specs
Plus / Minus
Highlighted Technology:
Internal Oxygen Concentrator
The internal oxygen concentrator produces the equivalent of up to 6 liters per minute or up to 40 percent oxygen in adult patients. The redesigned pressure swing adsorption process and Oxygen Direct™ system mean more oxygen is generated using less battery power.
Onboard FIO2 Monitor
The VOCSN onboard FiO2 monitor verifies accurate oxygen delivery.

External Oxygen Sources
VOCSN may include low pressure and high pressure ports for external oxygen. If external oxygen becomes disconnected, VOCSN activates an alarm and allows you to switch to the internal concentrator, providing an emergency backup source of oxygen.

Integrated Oxygen Blender
VOCSN includes an integrated oxygen blender to set precise FiO2 delivery when using external high pressure sources.
Download Oxygen Tech Specs (PG 10)

Cough
By unifying ventilation, cough, and suction into one system, it now takes seconds instead of minutes to administer cough therapy with Touch Button Cough™. The Ventec One-Circuit™ features a patent pending high flow valve design, allowing patients to use the same circuit for ventilation and cough. Using the Cough + Suction feature, the suction is activated during the cough therapy to clear secretions. Patients using invasive ventilation can use the Secretion Trap™ to easily clear secretions from the circuit. Once the set number of cough cycles is complete, ventilation automatically resumes.

Touch Button Cough™: The VOCSN cough is activated with the touch of a button to make airway clearance easy. Patients remain connected to the ventilator at all times, and there is no need to disconnect circuits between uses. The system is designed to reduce the gaps in ventilation, decrease the risk of patient misconnection, and minimize exposure to the patient's airway.
View details and specs
Plus / Minus
Highlighted Technology:
Advanced Cough Rise Time
The VOCSN uses an advanced rise time algorithm during cough. The system is designed to reduce the amount of mucus going back to the patient.

Breath Sync
When Breath Sync is enabled, VOCSN monitors patient breathing and triggers a cough at a natural point in the breathing cycle. The technology allows the patient to transition gently in and out of the cough therapy and seamlessly return to ventilation.

Cough + Suction
When the Cough + Suction feature is enabled, VOCSN will automatically activate the suction therapy to facilitate easy secretion clearance.
Download Cough Tech Specs (PG 12)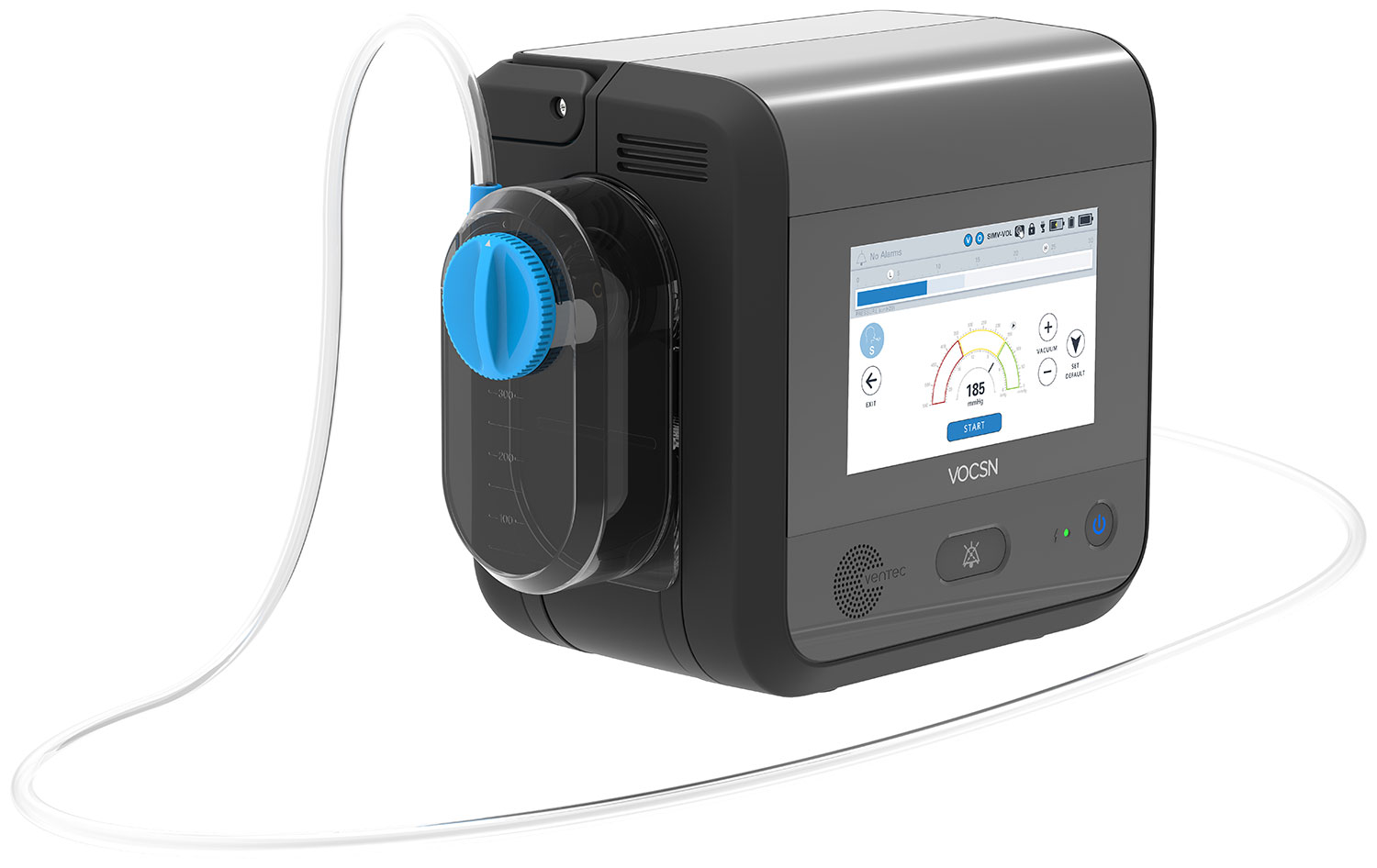 Suction
The VOCSN high flow suction provides quiet and effective airway clearance. Working in conjunction with the Secretion Trap, suction can be used to clear secretions from the patient's airway. VOCSN ensures consistent and precise vacuum pressure to quickly clear mucus. Plus, the suction system uses Ventec's unique sound muffler, making it more than three times quieter than traditional suction machines.
View details and specs
Plus / Minus
Highlighted Technology:
Cough + Suction
VOCSN activates the suction system during the cough therapy. Caregivers can activate a cough, clear the mucus, and return to ventilation in less than one minute.

Travel Suction Canister
The 300 mL detachable travel canister allows suction on the go. This size also supports emergency responders and transport.

External Suction Canister Adapter
The external suction canister adapter connects to the side of VOCSN to enable suction therapy with VOCSN while connected to any third party external suction canister.

Ventec Secretion Trap
The suction system removes mucus from the circuit simplifying mucus management. The system allows invasive patients to remain connected to the same circuit during ventilation, suction, and cough therapies.

Consistent High Flow Technology
The three piston compressor pump provides consistent high flow suction. The VOCSN suction system is capable of generating greater than 35 L/min of flow at 450 mmHg to easily manage the removal of difficult secretions.

Nebulizer
VOCSN provides an integrated 6 L/min nebulizer drive to make medication delivery seamless. VOCSN automatically compensates the airflow from the ventilator when the nebulizer drive is active to ensure accurate ventilation. The nebulizer can be battery operated for use on the go. Plus, VOCSN records data about each treatment and turns off the nebulizer once the therapy is complete.
View details and specs
Plus / Minus
Highlighted Technology:
Nebulizer Noise Muffler
The system uses Ventec's unique sound muffler technology and is half the noise of traditional nebulizer systems.

Programmable Auto-Off
The nebulizer automatically turns off following completed use.

Multi-View
Each use of the nebulizer, including frequency and duration, is recorded to help ensure medication compliance.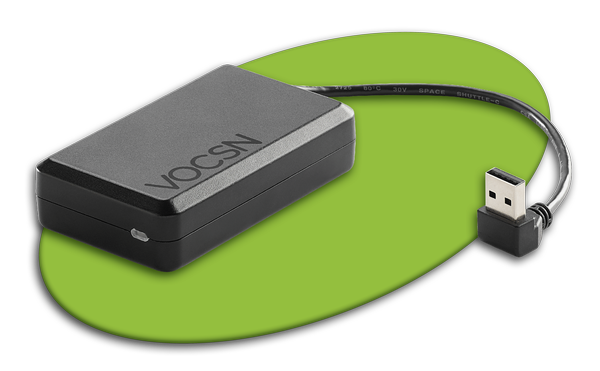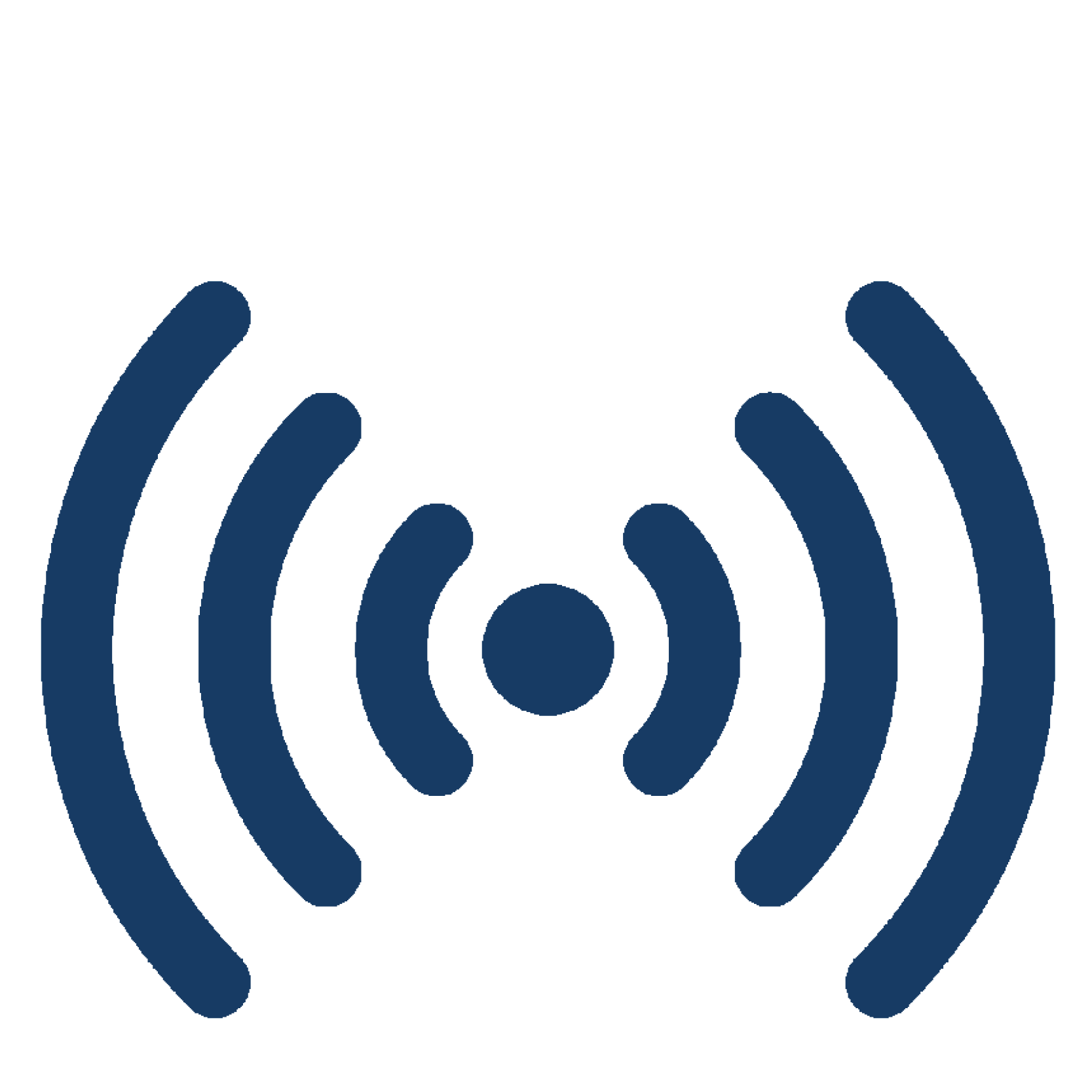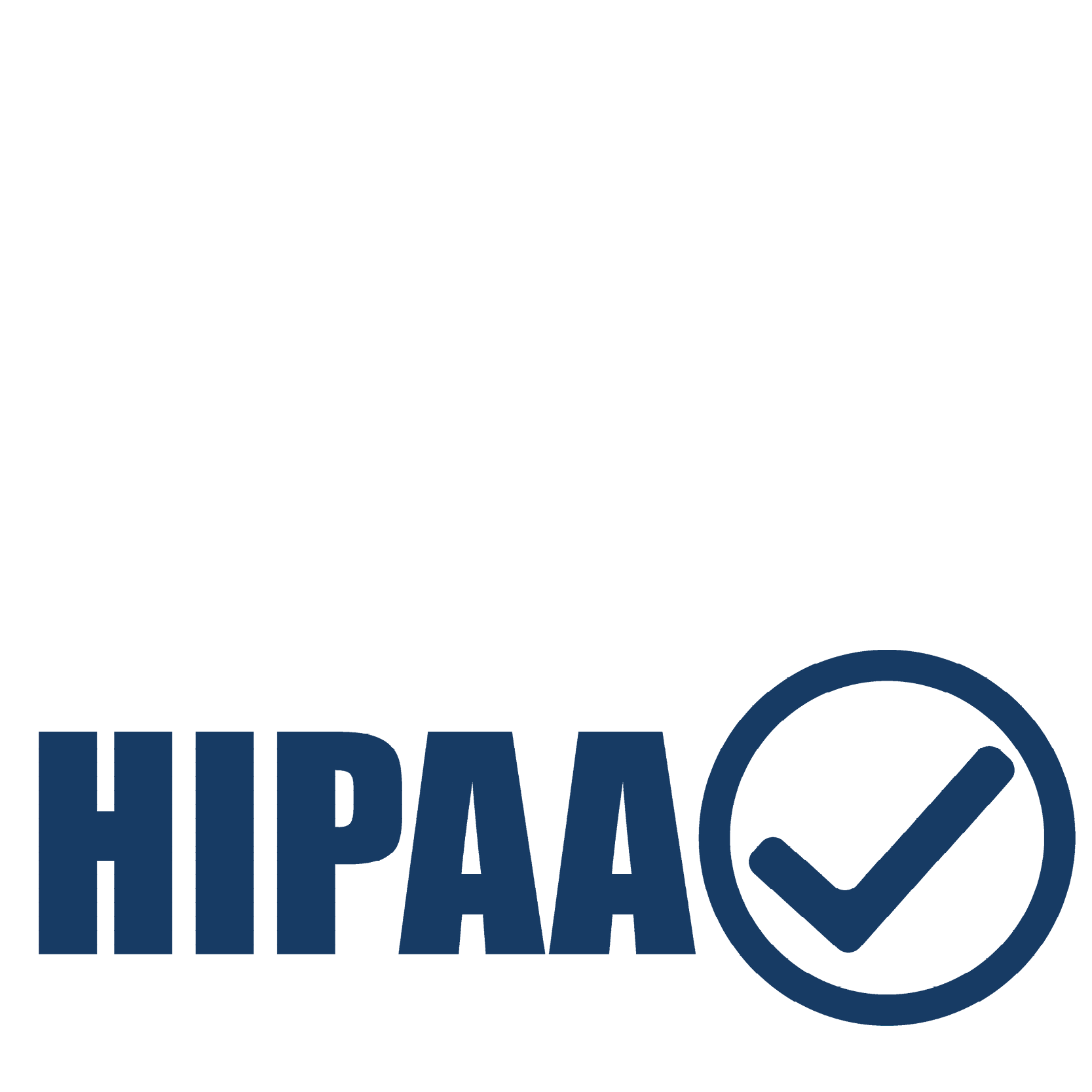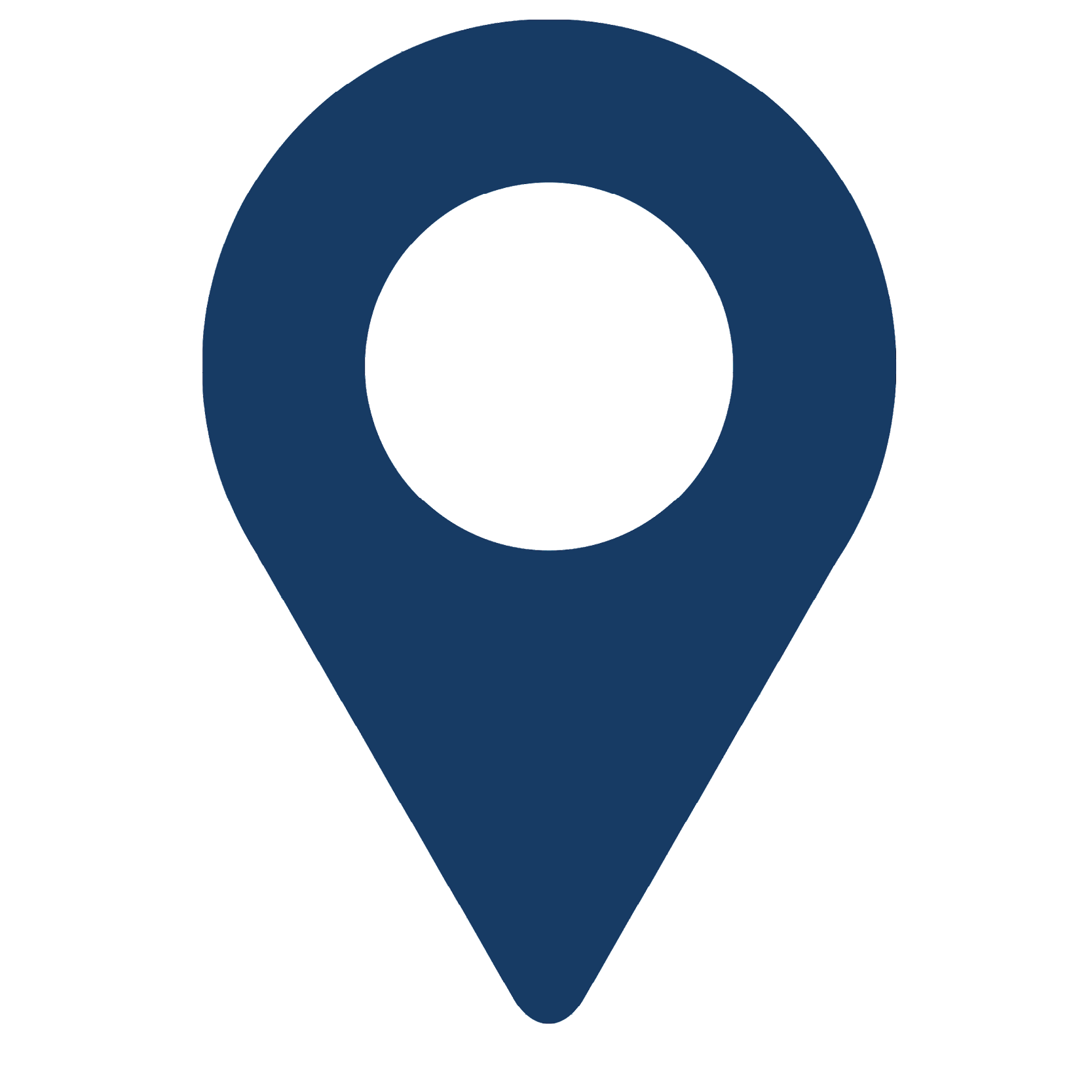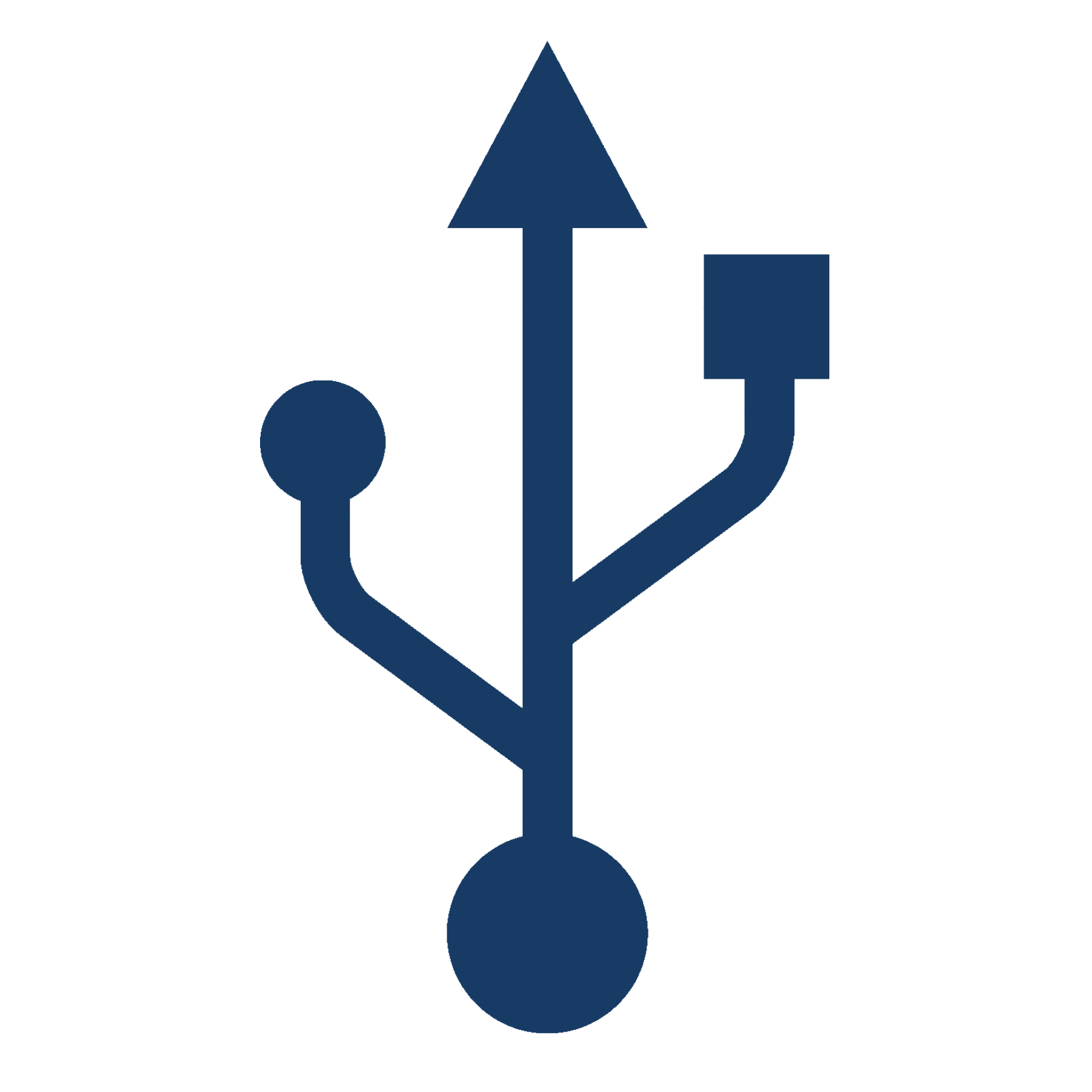 React DataLinkTM
The React DataLink provides wireless support for patient data sharing, allowing clinicians to view trends, track patient compliance with prescribed therapy, and facilitate informed treatment decisions.
Simple, reliable, and HIPAA compliant, the React DataLink encrypts data to communicate over a cellular network. For customers with limited access to cellular networks, React Health's family of VOCSN products can store up to 30 days of data to share when the React DataLink next connects to an appropriate network. In addition to data sharing, the React DataLink also provides GPS location support for connected devices.
The React DataLink is fully compatible with the hardware on any existing VOCSN product and can easily be attached and connected to VOCSN in the field without tools.
Access to patient data is managed on a dedicated, password protected web portal called Multi-View ConnectTM. Qualified users must create an account and log-in with a unique password to access appropriate device reports, which can be customized for specific caregiver roles such as physician, respiratory therapist, or DME. A cellular network subscription is required to support access to Multi-View Connect.
The VOCSN Multi-Function Ventilator is reimbursed according to HCPCS Code E0467. Eligibility for a multi-function ventilator follows the same medical necessity as existing devices today.
PRESCRIBE VOCSN RESOURCES
Whether you're a respiratory therapist, physician, or caregiver, we have the resources you need to learn about integrated respiratory care with the VOCSN Multi-Function Ventilator.
VOCSN Training Resources
With all major components over-engineered and designed to 30K hours of use, you will never have to replace a nebulizer or suction pump again. In the unlikely event one therapy stops working, VOCSN is designed to keep the other functions operational to the extent that it can safely do so.
More about VOCSN engineering
VOCSN is used in hospitals, long-term care facilities, transport, and in homes. Complex ventilator patients (invasive, non-invasive or mouthpiece ventilation) that use multiple devices may benefit from Integrated Respiratory Care with VOCSN.
Info for patients and caregivers