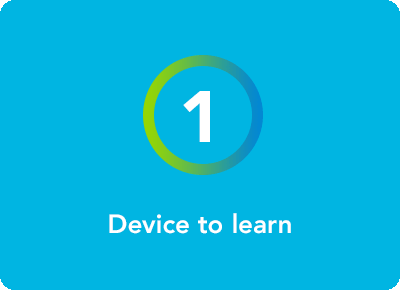 VOCSN Multi-Function Ventilator
Five therapies. One device.
The VOCSN multi-function ventilator integrates five separate medical devices, including a ventilator, oxygen concentrator, cough assist, suction, and nebulizer, into one unified respiratory system.
Hospital to Home
Pediatric and Adult
Invasive, Non-Invasive, and/or Mouthpiece Ventilation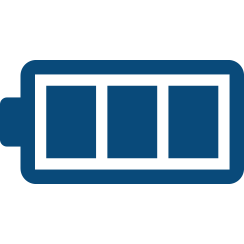 Up to 9 Hours of Power
Freedom all day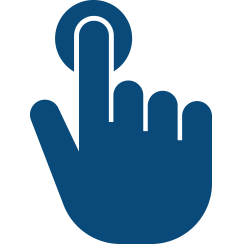 Touch Button Therapies
One circuit, no switching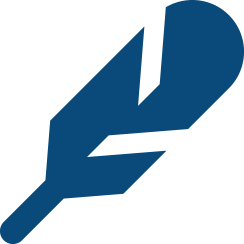 70% Lighter*
Less to carry, easier to travel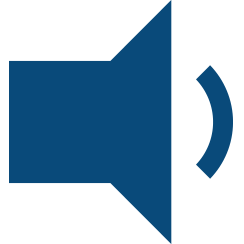 3x Quieter*
Discrete multi-therapy delivery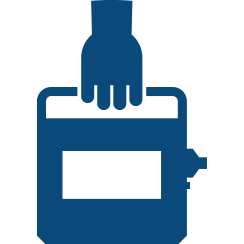 Everyday Mobility
Five therapies, one device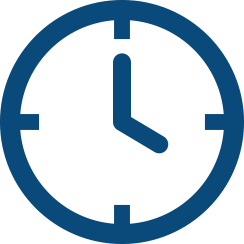 Faster Therapy
Care in seconds, not minutes
Homecare Reimbursement
Better payment for better care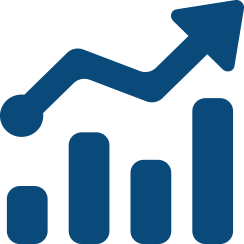 Comprehensive Reporting
Customized breathing comfort
*As compared to traditional ventilator, oxygen, cough, suction, and nebulizer devices.
VOCSN Video Demonstration
Integrated therapies make care quick and easy
VOCSN defines integrated respiratory care from the hospital to home. VOCSN is controlled with an intuitive touchscreen operating system to deliver treatments in seconds instead of minutes.
The Ventec One-Circuit™ provides uninterrupted ventilation between therapies. No more switching between cumbersome circuits and devices. Integration makes care easier and provides peace of mind.
Try VOCSN
Schedule a fully supported patient evaluation today
Our no-obligation patient evaluation gives you the opportunity to experience integrated care as you consider VOCSN for your facility or DME. VOCSN Patient Evaluations last for two days and include 24-hour, on-site clinical coverage. During the entire evaluation, members of our highly skilled Ventec Clinical Team will provide in-depth staff training and support to seamlessly transition patients to VOCSN. During VOCSN evaluations, caregivers can gauge patient comfort, assess the clinical impact, and observe the benefits of integrated care.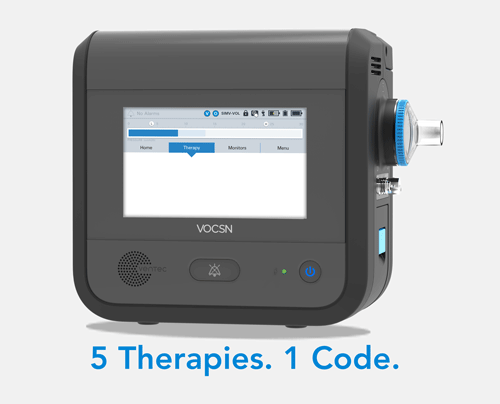 E0467 Reimbursement
VOCSN is reimbursable under HCPCS E0467
Suppliers can bill for VOCSN using the new code for a multi-function ventilator: E0467. Patients are eligible if they have a prescription for a ventilator and at least one of the other devices (oxygen, cough, suction, nebulizer).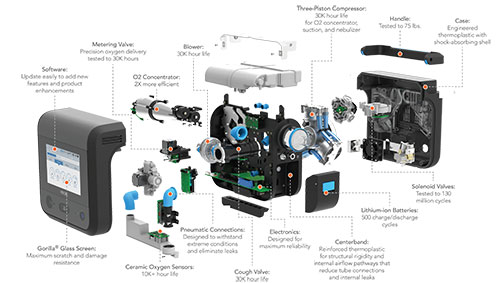 Engineered Tough
VOCSN is designed to provide lasting value
In addition to engineering endurance into every component, all VOCSN configurations include a 2-Year Standard Warranty, guaranteeing any initial repair and maintenance costs are covered by Ventec Life Systems. All five therapies are maintained on the same 10K-hour service schedule. All major components are over-engineered and designed to 30K hours of use, you will never have to replace a nebulizer or suction pump again.
CLICK TO VIEW THE DURABILITY OF VOCSN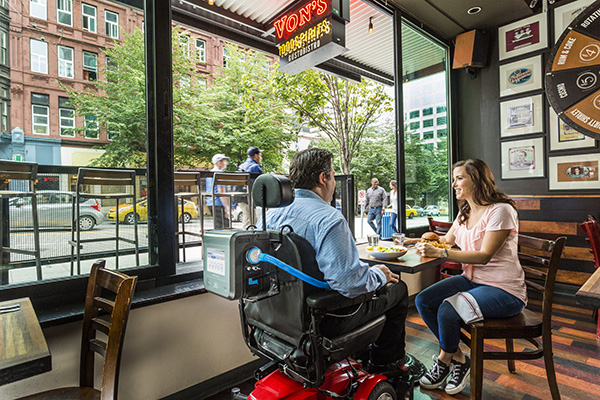 VOCSN Community
What people are saying from hospital to home
Patient Community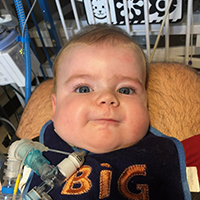 "VOCSN has made the possibility of leaving the hospital a reality for our baby son, Brooks. Born in October 2018, we learned Brooks has the ultra-rare disease SMARD which is thought to affect only about 100 children worldwide. His pulmonologist wanted to discharge Brooks, but we struggled to wean Brooks off the hospital ventilator. We tried other portable ventilators with the hope of taking Brooks home, but he just would not tolerate any portable device-until VOCSN. We quickly learned how to use VOCSN and we feel very comfortable setting and using all five therapies. Having all the therapies together has been so helpful, especially since the Cough Therapy function has had such a positive impact on his recovery from a recent infection."
Cam Howell, Father to Brooks - Louisville, KY
Small But Mighty Brooks
WDRB-FOX, Louisville, KY: "Thanks to medical machine, Louisville baby fighting rare disease is released from hospital"
WLKY-CBS, Louisville, KY: "Baby boy with rare disease returns home after months of treatment"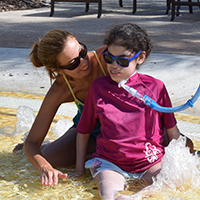 "VOCSN gave Chelsea the chance to have the trip of a lifetime to experience a magical day at an amusement park and even play in the fountains like all the other children seeking to cool down on a hot day. It was wonderful. She could enjoy the park all day and night. We had such a good time. The support from the Ventec team plus VOCSN turned her dream into a reality."
Lillian Dividu, Chelsea's Grandmother - Bronx, NY
These stories may not represent the experience of all patients and caregivers and may not represent the views of Ventec Life Systems.
Home Health Care Community

"From the first time we saw VOCSN, we thought it was too good to be true. The team thought IF it is true, this is a game changer and now as we use it with patients, it is true and it is game-changing. The reality of one power cord, one circuit, and one set of batteries to charge creates a much better dynamic when we walk into a patient's home for the first time as compared to all of the equipment we used to setup. Knowing each component in VOCSN is engineered to a high standard and long run life also provides peace of mind to us and the family that VOCSN will continue to perform every day for the patient."
Don Downey, Owner and CEO
Millennium Respiratory Services - Whippany, New Jersey
These stories may not represent the experience of all patients and caregivers and may not represent the views of Ventec Life Systems.
Long Term Care Community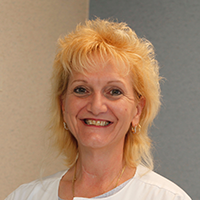 "Transitioning to VOCSN was extremely easy with the help of the VOCSN team - they made each patient transition safe and easy. Our patients love the "natural" feeling of VOCSN. Our RTs love all the time VOCSN saves. The monitor screen making vent checks a breeze and the Touch Button Cough saves them a ton of time. With VOCSN we can now take our patients to social functions without having to lug a suction machine and several oxygen tanks, plus we have ability to provide cough therapy whenever it's needed."
Millicent Zanders, CRT, Director of Respiratory
Lake Taylor Transitional Care Hospital - Norfolk, VA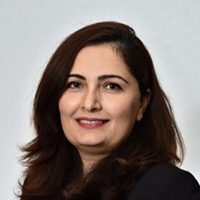 "The Ventec team is very knowledgeable and extremely receptive to feedback from caregivers and clinicians. The support we've received is superb. The amount of equipment and the limited space in patient homes often hinders the quality of life for the patient and the entire family. VOCSN has been the perfect solution and answers their needs for integrated care. It is amazing what we have accomplished since introducing VOCSN to our patients."
Yelena Yadgarova, MBA, RRT-NPS, Director of Respiratory Therapy
Elizabeth Seton Children's - Yonkers, NY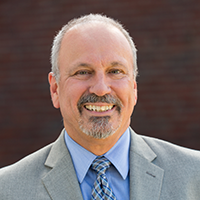 "We've built our facility from the ground up to offer the most advanced and quality medical and rehabilitative care for medically-complex ventilator dependent adults. From Day One, we selected VOCSN for use throughout our 60 beds as we believe it enables the most advanced respiratory care in the country. We are building a patient-centric care experience and VOCSN is enabling us to set the bar higher for mobility, ease of daily living and peace of mind for our patients, their families and our staff of dedicated respiratory care specialists."
J. Edward Burleigh, III NHA, President and CEO
Tulip Special Care - Philadelphia, PA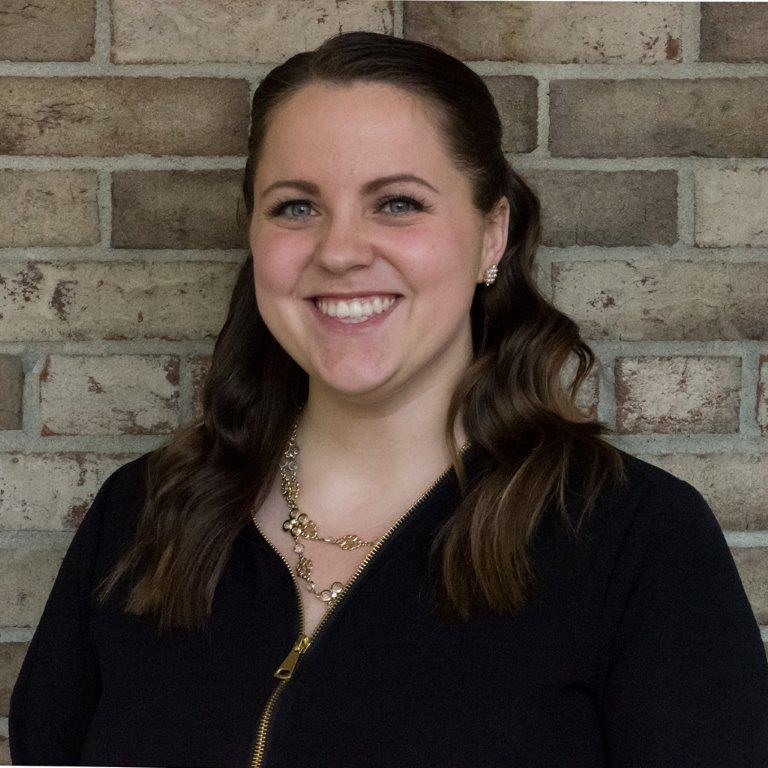 "I find the VOCSN Therapy Tracker to be a very useful and vital tool and I like that it tracks across all five therapies, not just ventilation. It has proven invaluable for trending, auditing, and improving compliance; all areas that elevate the level of care for our residents. Looking forward to what is in store next as the Ventec Team continues to add action information to Therapy Tracker."
Nicole Allen, RT, Director of Respiratory
Bridgewater Center for Rehabilitation and Nursing
Hear directly from VOCSN users. Directors of Respiratory Care share their perspective of the benefits of integrated respiratory care for the patient and caregiver.
These stories may not represent the experience of all patients and caregivers and may not represent the views of Ventec Life Systems.
Why We Created VOCSN
Integrated solutions for respiratory care
Our team was motivated by the belief that people are more than their medical conditions and that technology should evolve to make life easier. People should not have to use five different medical devices to treat any medical condition.
And yet, the reality has been very different. Hospital workers must learn multiple devices and spend valuable time switching circuits to deliver multiple therapies. Patients' families are overwhelmed as their homes turn into mini hospital rooms to support all of the different devices.
We designed VOCSN to make life easier for patients and their caregivers. The result is that patients become more mobile and caregivers have more time to care for their patients.