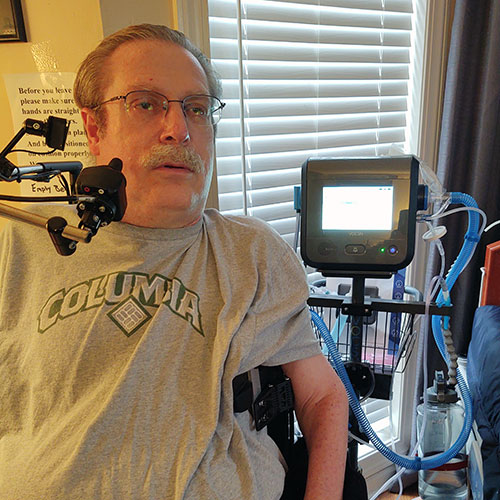 My story is simple. I was in the Army and I was sent to El Salvador as a military advisor in 1987. I was shot thru the left side of my neck at approximately C-6/C-7. The bullet severed by frenetic nerve, clipped the vertebral artery and left me paralyzed at a C-5, functional C-4 quadriplegic. My professional advice is don't get shot! It will screw up the weekend plans. I never understood why they let me live at the time, but I'm just too stubborn to quit.

I received VOCSN when an influential respiratory service representative at the hospital told me about VOCSN and we decided to give it a try. This ventilator does exactly what the brochure says. They have eliminated the need to have, a ventilator, suction machine, a nebulizer, and a concentrator cluttering up the shelving unit. I would say Cough Assist, but I never used one until I've got hold of the VOCSN. I now use it at least three or more times a day. Each time is multiple repetitions of one of the presets.

I'm glad to be using VOCSN and I take any chance I can get to tell my friends in the military and the VA about my experience with this wonderful multi-function ventilator that has been better for me and my caregivers!

Timothy C Hodge, U.S. Army Special Forces (RET)
Shallotte, NC
These stories may not represent the experience of all patients and caregivers and may not represent the views of Ventec Life Systems.