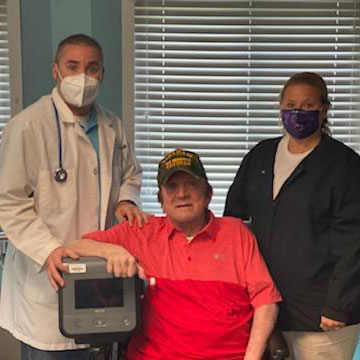 I had good RTs here at Eastbrook. Without their help and without VOCSN, I don't think I would have been able to get off as fast as I did. It was a combination of determination, people, and the right machine, but I definitely want to thank the team at Eastbrook.

As long as you have the machine [VOCSN], it's going to help other people too. People will know they can get off if they really want to. If I can help one other veteran or one other person, that will make my day. I'm off the ventilator, I want someone else to feel like I do.

- Richard Strunk, Cleveland, OH
A Veteran's Success Story with VOCSN at Eastbrook Healthcare Center
Richard Strunk proudly served his country during the Vietnam War, but after being diagnosed with Guillain-Barré in November 2018, he faced a new battle at 69 years old. "At the time I was diagnosed, I used to do a lot - dancing, hunting, fishing, and more," recalled Mr. Strunk.
Guillain-Barré quickly robbed him of many essential functions, making him unable to walk or even sit up in bed, as well as making it impossible for him to breathe on his own. He received a tracheostomy and started breathing with the help of a mechanical ventilator. By December 2019 he transferred to Eastbrook Healthcare Center in Cleveland but his outlook was not good when he arrived. He could not talk or move anything except his right hand.
"If you had seen me when I first got to Eastbrook, I was in pretty bad shape. If they hadn't taken me as a patient, I don't think I would have made it," said Strunk. "No other place would take me."
The medical team at Eastbrook immediately transitioned Mr. Strunk to VOCSN Multi-Function Ventilator and he quickly began to realize the benefits of integrated respiratory care. "I hadn't done cough therapy before I arrived here," said Strunk, "but they hooked me up to VOCSN and I started using cough therapy that's right on the device, and that helped me a lot."
"VOCSN really came through for Mr. Strunk," said William Mutch, RRT, the RT Director for Eastbrook. "The cough assist in particular really helped him move secretions which was huge. VOCSN was a critical turning point for him."
The results of using integrated cough therapy after switching to VOCSN were exciting for Mr. Strunk and the team at Eastbrook. After a little over two months at the end of February 2020, he began weaning off VOCSN, and in less than four months by March, he was off ventilation completely.
In June, Mr. Strunk was decannulated (his trach was removed) and he's turned his sights toward his goal of leaving Eastbrook. "I like it here, but I want to go home," he said.
"I had good RTs here at Eastbrook. Without their help and without VOCSN, I don't think I would have been able to get off as fast as I did. It was a combination of determination, people, and the right machine, but I definitely want to thank the team at Eastbrook," said Strunk.
The team at Eastbrook is pleased with his progress and looking forward to discharging him to go home with his family.
"We're very happy with VOCSN," said Mutch. "VOCSN is very user friendly and convenient. It's an all-in-one package, it does so much more than what it looks like it does since it's just 18 pounds."
It's been a long journey, but Mr. Strunk wanted to share his experience to inspire other patients and in particular his fellow veterans. "As long as you have the machine [VOCSN], it's going to help other people too. People will know they can get off if they really want to. If I can help one other veteran or one other person, that will make my day. I'm off the ventilator, I want someone else to feel like I do."
More from Eastbrook Healthcare Center


These stories may not represent the experience of all patients and caregivers and may not represent the views of Ventec Life Systems.