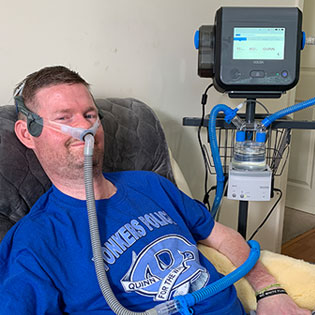 To the people who helped develop VOCSN and to everyone getting it out there, I can't thank you enough! You have changed the fight against ALS and I know you will not stop now. This disease destroys people. It slowly robs you of everything you have. But what you are doing here is giving people hope to remain active while getting the best equipment in one machine. You have given me new hope that amazing technology like VOCSN will keep me living with ALS, not dying from it. I still have many things I want to accomplish and VOCSN is going to be there coming along for the ride.

Pat Quinn, Founder of Quinn 4 the Win
and Co-Founder of the Ice Bucket Challenge
Yonkers, NY
These stories may not represent the experience of all patients and caregivers and may not represent the views of Ventec Life Systems.