Ventec Life Systems increases monthly production 80x to respond to COVID-19 needs.
VOCSN is a unique solution for COVID-19 patients and medical professionals.
COVID-19 SUPPORT AND TRAINING
Ventec has all of the training resources you need to
learn how to use VOCSN and respond to COVID-19
CONTACT US:
Phone:
877-883-6832 (877-8VENTEC)
Email:
covid19@venteclife.com
Go to VentecLife.com/support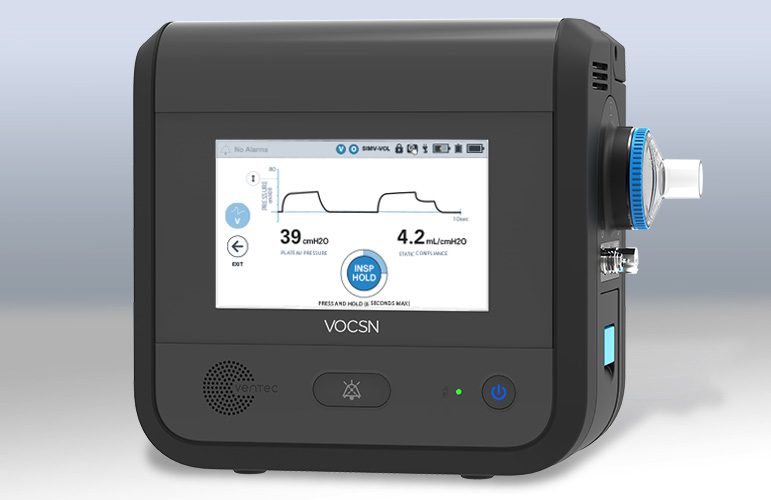 VOCSN Multi-Function Ventilator
VOCSN is a critical care ventilator that works from hospital-to-home for pediatric and adult patients and includes the following therapies:
Ventilation: Critical care ventilator & high flow therapy
Oxygen: 6 L/min oxygen concentrator
Cough: Touch button cough assist
Suction: Hospital grade suction
Nebulizer: High performance nebulizer
LEARN MORE
Frequently Asked Questions for COVID-19 Emergency Response with VOCSN
Below are some answers to questions we often receive about VOCSN, but please email us at covid19@venteclife.com if you have any specific questions. You can also use our searchable knowledge base to find more answers to your questions.
How can I purchase VOCSN for myself or a loved one impacted by COVID-19?
The five therapies provided by VOCSN require a physician prescription for use in the home. VOCSN is not available for sale to individuals and can only be sold to hospitals, home medical equipment providers (DME companies), long term care facilities, medical transport, and government organizations who are licensed to purchase medical equipment.
We are very grateful to Ventec Life Systems and General Motors for the critical care ventilators we received in April. The devices built in just one month are currently helping patients battling COVID-19, and are valuable tools enabling our medical team to save lives. I'm proud to say we have had many patients beat COVID-19, wean off the ventilator and safely return home.
—Dr. Suzanne Pham, Weiss Memorial Hospital
I'm grateful that Weiss Memorial Hospital received ventilators created by Ventec Life Systems and General Motors. When I was rushed into the hospital room, I couldn't walk without pausing to catch my breath. The team at Weiss put me on one of your machines, and I was fortunate to make a fast recovery. They later told me they were running out of ventilators, but fortunately had received one of the first shipments from the federal government, so I didn't have to wait for help. That machine (VOCSN) pretty much saved my life.
—Jeffrey Dickerson, Chicago, IL, COVID-19 Survivor
MEDIA RESOURCES
For inquiries or requests, please email media@venteclife.com